The combination between style and ethics 
NOAH aspired to create shoes with an Italian style and high-premium Italian quality, while not harming the environment, animals or human health. The skillful production of the small batches of our shoe collections takes place only in Italian manufactories that adhere to fair working conditions. The leather-like microfibres used, such as micronappa and microsuede, are lightweight, durable, breathable, water resistant and suitable for people with allergies. Moreover, they are environmentally and animal friendly. Our vegan shoes stand for a responsible lifestyle that combines the elegant design of high-class shoes from Italy with consistent sustainability during production and consumption.
NOAH's vegan shoes enthuse with quality, design and sustainability. We think like that, and others do as well: PETA and the Vegan Society certified our holistic concept and recently awarded us the Green Product Award. Our vegan ankle boot "Dora" was also decorated. PETA Germany awarded it the "Best Fashion Award 2014" in the category "Best Women's Shoe." When purchasing a shoe from NOAH, you not only get a high-quality brand with an Italian design, you also support a socially just and sustainable way of doing business:
For the environment - sustainable and resource-efficient materials
For the people -  free of toxins and allergens
For the animals - without the use of leather
Shoes made in Italy - promise to quality
Italy is recognized for its shoemaking know-how worldwide: premium, Italian shoes are the cherry on the cake for every outfit – no matter if it's a business or a casual look. Traditional shoemaking art that has been passed on over generations and is interpreted in an innovative way, as well as the use of exclusive materials, make NOAH's shoes to loyal companions throughout the day. In Italy, high-premium leather-like microfibres are hand-crafted into aesthetic and comfortable shoes. The manufactories that make our shoes were picked personally by us. Through regular on-site visits, we ensure the adherence to fair working conditions. The "made in Italy" promise of quality applies to all our shoes, guaranteeing elegant and high-class footwear. Our vegan shoe creations lend our look a touch of "dolce vita" and elegance, and are a true eye-catcher.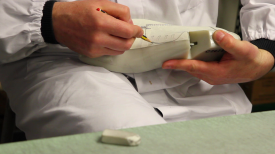 Eco-friendly chic - NOAH`s Italian vegan lifestyle
Vegan shoes from NOAH – that's the triad of aesthetics, ethics and quality. This socially-sustainable way of thinking coins the entire production process: our shoes are hand-made in small series in manufactories in Italy. We only use vegan materials with a high percentage of recycled content. We therefore contribute to reducing animal cruelty, protecting the environment and climate and conserving resources. Our shoes are made from premium materials, like durable microfibres such as micronappa and microsuede, and with a lot of attention to detail. This classic Italian understanding of design and exclusive craftsmanship result in shoes that are second to no leather model – not in terms of style nor in comfort. No matter if you go for classic lace-ups, modern boots or trendy sneakers – women and men will definitely find the perfect fit for every taste and occasion. Wearing NOAH's vegan shoes, you will leave a sustainable and socially just footprint at work and during your leisure time.
Awards and certificates 







Size Guide
Woman

| Centimeters | 21,5 | 22 | 22,5 | 23 | 23,5 | 24 | 24,5 | 25 | 25,5 | 26 | 26,5 | 27 | 27,5 | 28 | 28,5 |
| --- | --- | --- | --- | --- | --- | --- | --- | --- | --- | --- | --- | --- | --- | --- | --- |
| Europe | 35 | 35,5 | 36 | 36,5 | 37 | 37,5 | 38 | 38,5 | 39 | 39,5 | 40-41 | 41 | 41-42 | 42 | 42-43 |
| UK | 3 | 3,5 | 4 | 4,5 | 5 | 5,5 | 6 | 6,5 | 7 | 7,5 | 8 | 8,5 | 9 | 9,5 | 10 |
| USA | 5 | 5,5 | 6 | 6,5 | 7 | 7,5 | 8 | 8,5 | 9 | 9,5 | 10 | 10,5 | 11 | 11,5 | 12 |
| Russia | 34 | 34,5 | 35 | 35,5 | 36 | 36,5 | 37 | 37,5 | 38 | 38,5 | 39 | 39,5 | 40 | 40,5 | 41 |
Men

| Centimeters | 25 | 25,5 | 26 | 26,5 | 27 | 27,5 | 28 | 28,5 | 29 | 29,5 | 30 | 30,5 | 31 | 31,5 | 32 |
| --- | --- | --- | --- | --- | --- | --- | --- | --- | --- | --- | --- | --- | --- | --- | --- |
| Europe | 40 | 40,5 | 41 | 41,5 | 42 | 42,5 | 43 | 43,5 | 44 | 44,5 | 45 | 45,5 | 46 | 46,5 | 47 |
| UK | 6,5 | 7 | 7,5 | 8 | 8,5 | 9 | 9,5 | 10 | 10,5 | 11 | 11,5 | 12 | 12,5 | 13 | 13,5 |
| USA | 7 | 7,5 | 8 | 8,5 | 9 | 9,5 | 10 | 10,5 | 11 | 11,5 | 12 | 12,5 | 13 | 13,5 | 14 |
| Russia | 39 | 39,5 | 40 | 40,5 | 41 | 41,5 | 42 | 42,5 | 43 | 43,5 | 44 | 44,5 | 45 | 45,5 | 46 |
PLEASE ASK ABOUT MORE MODELS AVAILABLE